Last Updated on 9 months by Mike Ramsey
Most dog parents love to bring their furry babies wherever they go, even camping.
Yes, camping with a dog can be a delightful time. It's one way to strengthen your bond and deepen your relationship.
However, it won't be as easy as you think, especially when it's your first time doing so. Though this seems to sound fun and enjoyable, there are things that a responsible dog parent should consider before diving straight into the action.
Doing so will ensure that you and your dog are safe and enjoy the best.
If you're thinking of going camping with your dog soon but don't know what to do, this article will help you answer some questions in mind. We will discuss the pros and cons of camping with your dog, how to prepare them, and the itemized dog camping gear you need to bring.
Is Camping With A Dog A Good Idea?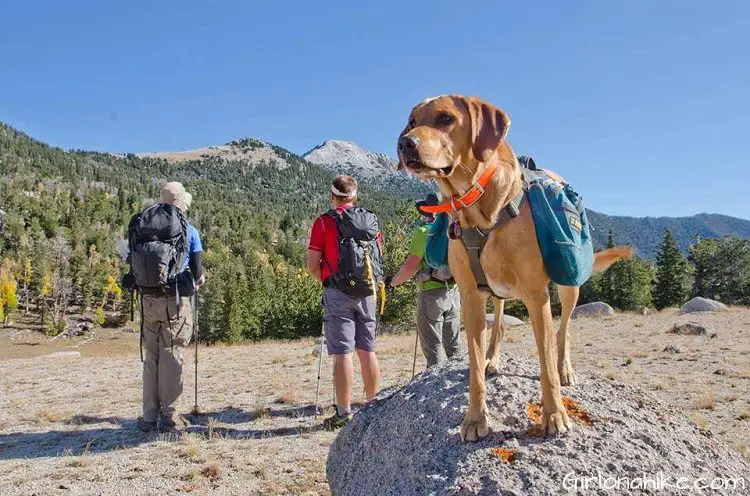 The answer to this question is yes and no. It all boils down to your assessment as an owner, whether it's ideal for bringing your dog with you or not.
If you're unsure what to decide, here are some pros and cons to help you weigh your decision.
Pros
There are many things to love when camping with a dog. Here are some pros to prove to you that your furry friend is worth bringing:
Deepen Bonding – As mentioned earlier, camping with your dog allows you to bond and develop the connection you have. This will also help your dog to learn to trust you more.
Safety Purposes – Predators and danger are unwanted yet possible things to encounter during camping. That said, bringing your dog with you will allow you to have extra senses to keep you alert from predators trying to come close.
Time to Exercise – Camping with your dog will encourage you and your furry pet to exercise more than usual. Because camping would require hiking, it's an excellent way to allow your dog to exercise and release that pent energy.
Companionship – If you're camping alone, you might as well bring your pup with you. Who doesn't love to have a cuddly companion?
Cons
Amidst the admirable advantages mentioned above, there are still some cons that you might want to consider before bringing your dog to a camp. Here are as follows:
Extra Expenses – Bringing your dog to a camp is way more than just bringing him alone. Instead, it means you are required to bring your dog's camping gear with you. That means you will have to buy some additional camping gear for your dog, which also equates to extra expenses.
Additional Effort – Aside from the gear you have to purchase, bringing your dog with you also means additional effort. As a responsible furry parent, you must ensure that your dog is fit to camp, which means you have to bring him to the vet before camping, ensure that the campsite is suitable for dogs, bring extra camp items, and many more.
How To Prepare Dogs For Camping?
Though camping seems to be a fun activity, you need to consider your dog's welfare, especially when it's his first time doing so. If you don't know what to do, here are some tips on preparing your dog for camping.
Have A Quick Visit To The Vet
Before going on a trip with your furry friend, you must visit the clinic for check-ups and assessments. You must ensure that:
Vaccinations are updated and are still valid to avoid getting infected with diseases from other animals.
They have tick and flea protection.
Microchipped in case lost (Optional but recommended)
They are groomed to help maintain a suitable body temperature. Their nails should also get trimmed to make sure that they don't get snagged on trees or ropes.
Ensure that they are fully healthy.
Having your vet's approval is necessary before you decide on bringing your dog camping with you.
Have A Trial Campout
If this is your dog's first camping trip, it's crucial to have a trial campout to give him an idea of what's going to happen and allow him to familiarize the activity. Here are some activities that you and your dog can do to prepare:
Remember that your dog must be under control throughout the whole duration of the camp. That's why you must practice having your dog on the leash for a longer time to accustom him to the campsite set-up.
If your dog isn't the most outdoor lover, you can start acclimating them by allowing them to stay outdoors for a longer period. You can also make good use of treats and some of their favorite toys to help them enjoy staying outside.
Ensure that your pooch is comfortable having other people and animals around. You can practice your dog's social skills by bringing him more often to dog parks where other animals are present. That way, you can assure that they will enjoy being with others during the camp.
To give your dog a better grasp of what's about to come, you can try camping outside your home. Allow your pup to get used to being on the leash and sleeping outdoors. You can also try spending time around the fire. This way, you can know how your dog will be during the real action.
How To Keep Dogs From Wandering Around?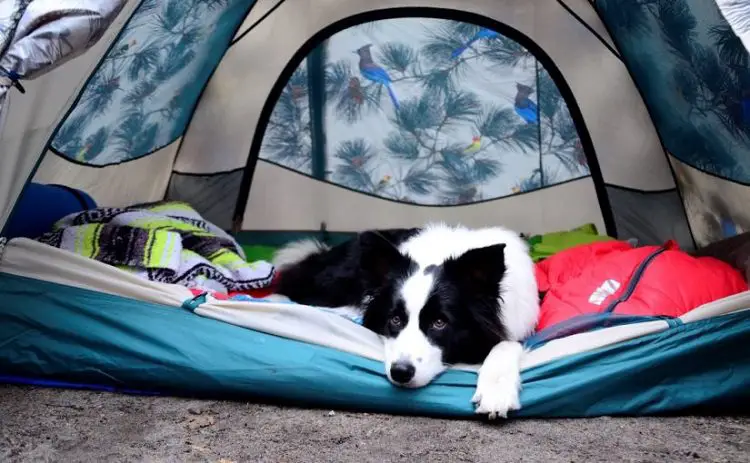 Being on a camp with your dog on a public campsite also equates to keeping him from wandering around, whether it's for safety or etiquette purposes.
Therefore, it's best to ensure he doesn't snoop in places he shouldn't be. Here are some things you can do to avoid that unwanted situation.
Leash Your Dog
We all know how energetic and persistent our pups are when they are on the mission of something. That's why as much as you want to allow him to run around the place, there will be times that you need to leash him to something stable and secure.
You can also tie the leash in a cable run to allow your dog to roam in a bigger space. This also helps reduce the chance of entangling himself.
Camping Crate
After a long day of fun, you can allow yourself to relax in the tent while your dog is relaxing in a camping crate.
This will give you and your pet the time to rest and restore energy without worrying about him wandering around. This is especially ideal for dogs with anxiety as their crate gives that sense of home. 
Camping Fence
Using a camping fence gives them their own room and space on the campsite.
This also gives you peace of mind without having to worry about their leash being entangled with something while providing them freedom.
Essential Dog Camping Gear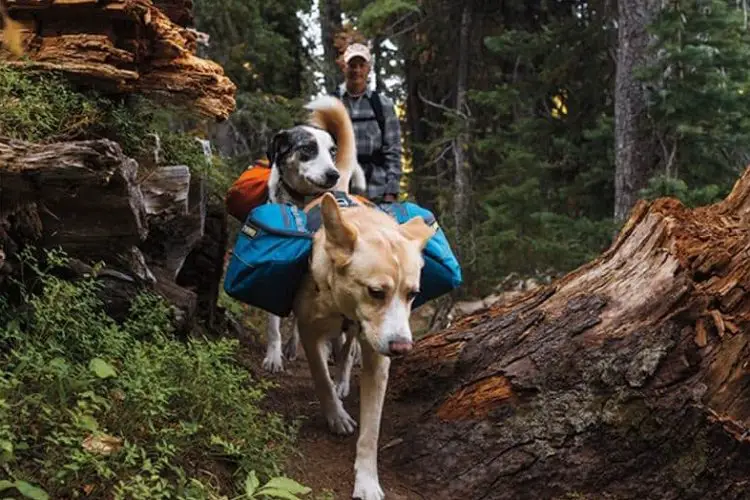 One of the things to consider before going camping with your pooch is the camping gear that it needs as much as you do. This will ensure your pet's safety and your peace of mind, too.
Comfortable Sleeping Mat – After a long tiring day, your furry pet deserves a good night's rest. And as much as you would want to sleep on a comfortable sleeping mattress, your pooch desires the same as well.
Muzzle – Some campgrounds have specific rules for barking and excessive noise. Therefore, bringing a muzzle with you is always better if you can't control your dog's barking.
LED Collar – Camping out in the woods can be truly fun and exciting. However, it would be best to always consider your dog's safety. Allowing him to wear a LED collar will ensure that you see where your dog is amidst the darkness.
Leashes and Zip Line – As much as you want to give your dog the free space to run around off-leash, it's not ideal to do so, especially when other campers are on-site. This is where a camp hitch comes in handy. You can now ensure that your dog can freely roam around and not get stuck on a short leash alone without worrying about them wandering around.
Food and Water Bowl – Bringing your dog's own food and water bowl, especially on camp trips, is undeniably important. For better convenience, you can bring collapsible bowls to easily store them away after use.
First Aid Kit – Some of the first aid kits you should bring are your pet's vet record, ongoing medications, sterile wash, thermometer, gauze, adhesive tape, and bandages.
Dog Camping Chair – You may wonder why it's necessary to have a dog camping chair. Keep in mind that just as much as you don't want to sit on the cold ground, your dog would feel at home best having his camping chair to sit on.
Dog Fence – A dog fence is vital when camping with a dog as it keeps it from wandering around and getting lost. This is also important not to attract predators around the vicinity.
Dog-Friendly Campsites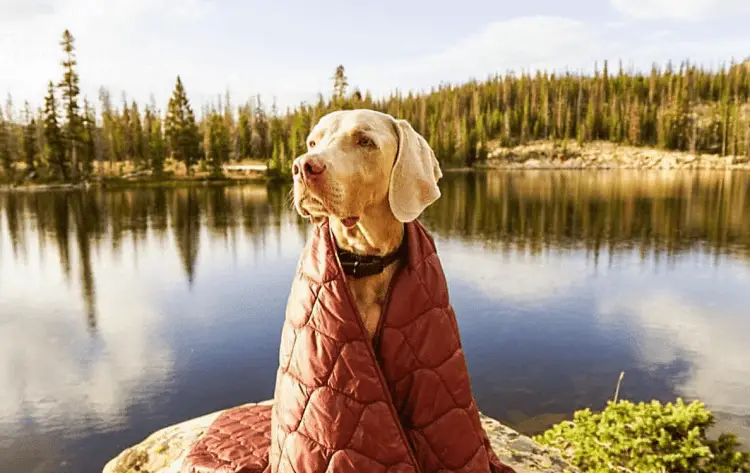 Not all campsites are created equal. That said, you must find suitable campsites that you and your dog will enjoy. So, what makes a campsite dog-friendly?
Clear Campground Rules For Pets
Before finalizing a venue for camping, it's crucial to ensure that the campsite allows dogs in the vicinity. With that, it's ideal to call campsites, ask for their campground rules, and assess if it's suitable for your dog.
Designated Relieving Area
Pet-friendly campsites usually offer designated relieving areas for their animal guests. Such areas have a variety of surfaces like grass, soil, and wood chips, as this will allow animals to relieve themselves in the most comfortable way possible.
Leash-off Area
After a long day of being on the leash, it would be such a sense of relief to allow your dogs to run and enjoy the camp without a leash.
Suitable campsites usually have a fenced area where pets could just run and roam around. One important tip to do, especially when you have medium to large breeds, is to ensure that the size of the leash-off area is ideal for the size of your dogs.
Well-Maintained
As a responsible pet parent, it would be best to check if the campground is well-maintained.
This factor is important as this determines the safety of your pet in the area. You surely would not want to see a site full of trash, broken bottles, tall grasses, and pet waste, as these can cause danger to your dogs.
Conclusion
Indeed, camping with your special furry friend is an experience like no other. Not only will it give you the companionship you need, but peace and safety as well.
Always keep in mind to ask for your vet's approval before heading out to camp. Make sure that your pet is physically healthy. Aside from that, preparing your pup's camping gear is also vital. These are essential to ensure that you and your dog enjoy the camp without worries.
Lastly, it's always best to ensure that your dog is ready and prepared for such an activity.
As mentioned above, there are things that you need to do on your end as a responsible furry parent. Considering the above information will help determine your camping success and maximize fun.
Resources: