If there is one dog that has earned a ferocious reputation, it is the Pitbull.
Fierce to look at with dark eyes and stout frames, Pitbulls look aggressive. Ask any Pittie owner, though, and they will passionately deny that these creatures are fierce. Instead, they are fiercely protective and make for super loyal companions.
When they aren't nudging you for walks, they are asking for cuddles from their favorite human.
Pitbulls were earlier used to protect livestock and even used in the dogfighting rings, specially bred for that purpose. Perhaps this is where their poor and fierce reputation stems from.
Under certain circumstances, though, you may want to muzzle up your Pittie for his overprotective tendencies. There are other reasons besides.
Some states like Massachusetts require that "dangerous breeds" like Pit Bulls must be muzzled when you take them outside. You may not like that, but you need to comply with the law!
During an intrusive grooming session, you should muzzle your Pit, mainly if he's prone to biting during a session. The dog groomer may also request you to muzzle your pet just in case.
Like grooming appointments, a vet appointment may also require you to muzzle your Pittie. You know your dog best, so if you feel he may lash out as he is being prodded and poked, it's best to put a muzzle on. Some vet hospitals may also require you to do so as a rule.
In certain other situations, like when your dog is injured, using a muzzle is safe as he may already be distressed and lash out at anyone he comes across. Tending to your dog when he's in the right state. So using a muzzle for safety makes sense.
Now that you are aware of the scenarios why your Pitbull may need a muzzle, you may be wondering what the best dog muzzle is for your beloved Pittie. To make your life and that of your Pittie's a lot easier, we have compiled this list of the best muzzles. Keep reading to know about them in-depth.
Best Muzzles For Pitbulls – Reviews & Buying guide for 2021
Best Overall: CollarDirect Pitbull Dog Muzzle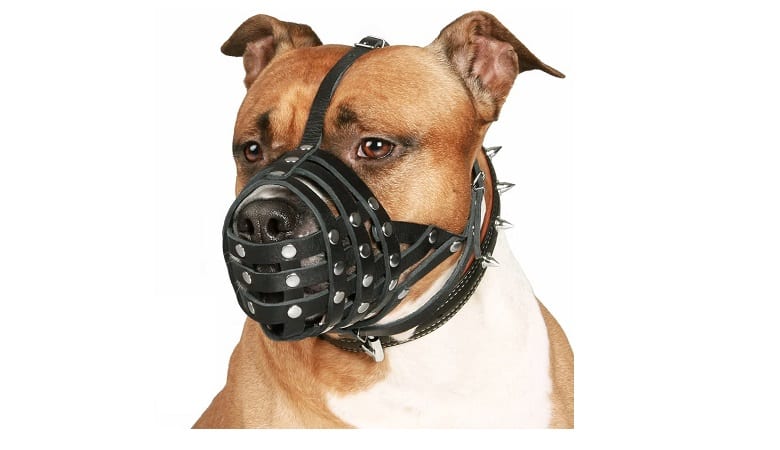 Featured Specs
Measures: 6.02 x 4.21 x 2.87 inches
Weighs: 5.15 Ounces
Size: Сircumference of dog's snout is 14″ and Length of dog's snout is 3″.
Material: Genuine Leather
Colour: Black
Type: Basket
Benefits
This basket muzzle is mainly designed for Pitbulls, Staffordshire terrier, and other breeds with similar snouts. Made of high-quality leather, it is not only durable but highly comfortable on your Pitbull too. He will have no problems breathing when he is muzzled up.
It fits snugly against your Pittie's snout. Therefore, it is more effective in preventing him from biting than other muzzle options. It not only makes it the best basket muzzle for Pitbulls but also one of the best dog muzzles for biting as well.
Drawbacks
Despite its robust features, it does have a drawback in that it may not fasten securely, no matter how tight you muzzle your dog.
Extra features
In addition to the comfortable fit, this muzzle comes with two adjustable straps to ensure that the muzzle is neither too tight nor too loose on your Pitbull.
Handmade out of pure leather, you can use it conveniently as a training muzzle on your Pit.
Buying Advice
It is a great muzzle for Pitbulls if you want one that prevents your Pit from biting others and even for training purposes.
Handmade leather ensures durability and comfort. Although it is designed for a pit bull's mouth, it is recommended that you measure the circumference and girth of your pit bull's snout before placing an order.
Typically, for a snout (Pitbull or any breed with a similar snout) that measures 14 inches by circumference and 3 inches by length, this muzzle should be perfect.
Runner Up: BronzeDog Metal Wire Dog Muzzle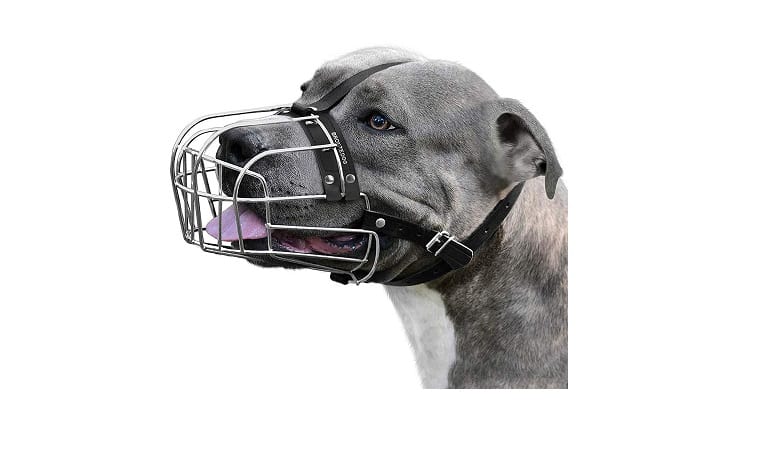 Featured Specs
Measures: 7.05 x 4.57 x 4.33 inches
Weighs: 9.59 Ounces
Size: Сircumference of dog's snout is 12" and Length of dog's snout is 3.5"
Material: Durable Stainless Steel
Colour: Stainless Steel
Type: Metal Wire
Benefits
As a Pittie owner, you may prefer a metal wire muzzle to a basket muzzle. When it comes to meal wire muzzles, you cannot do better than BronzeDog Metal Wire Dog Muzzle. It is ideal on Pits whose snout measures 12 inches in circumference and 3.5 inches by height.
Not only does this prevent your dog from biting someone, but it also surrounds your Pitbull's snout in a wide metal stainless steel barrier for your dog's comfort. It ensures that he can breathe comfortably, pant, and even lick his nose!
This muzzle allows plenty of air in, which is great news for your Pit, especially on a hot summer day. Enough ventilation is paramount for your Pitbull's comfort and wellbeing.
Drawbacks
A few dog owners reported issues with the fit of the muzzle. Also, it is slightly more expensive than the basket option.
Extra Features
The muzzle comes with a soft padding and 4 adjustable straps for a super snug fit and supreme comfort for your dog. Perfect for training, vet visits, and grooming appointments, this versatile muzzle is one of the best muzzles for walking dogs.
This muzzle also features a cushioned leather strap on the inside. It is placed to prevent rubbing and irritation.
Although durable, they are designed in such a way that they are not heavy. Your Pitbull will not be unnecessarily restricted when he's playing with you or going with you on a walk.
Buying Advice
Heavy-duty metal buckles/wires are always a great option and make for some of the best dog muzzles for Pitbulls. It is because the muzzle will stay securely in place while allowing plenty of air in.
Great for vet and grooming sessions, this muzzle is a must-buy if your Pitbull is prone to lash out or be aggressive when he comes across other dogs on your walk.
Also, if your dog likes sifting through trash or picking up food or other items on the street, you need to muzzle him up on your walks. With good breathability, comfort, and room for panting and even having a drink and a treat or two, this is one of the best dog muzzles for walking.
Alternative: LUCKYPAW Dog Muzzle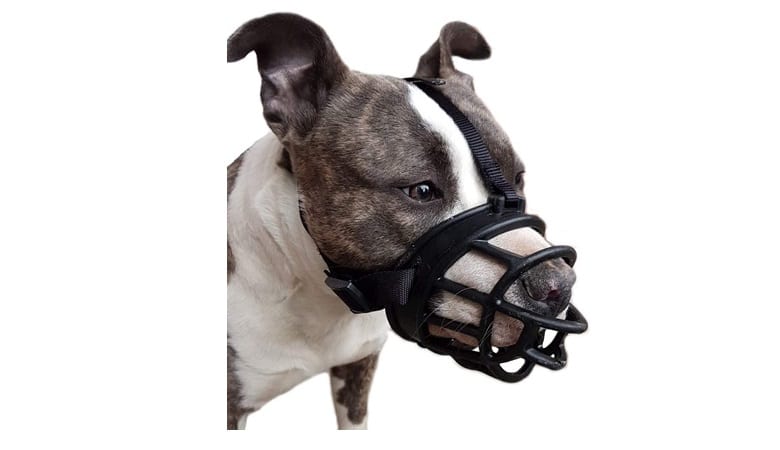 Featured Specs
Measures:6.22 x 4.45 x 1.69 inches
Weighs: 3.28 Ounces
Size: Сircumference of dog's snout is 7 to 9 inches and length of the dog's snout is 2.7 inches
Material: eco-friendly non-toxic, more durable and flexible plastic rubber l
Colour: Black and Grey
Type: Basket
Benefits
This dog muzzle is a super creative basket-type of muzzle that is mainly designed to prevent your dogs from biting and chewing. The design is such that it gives all-round mouth protection for your Pitbull while also allowing enough room to eat, drink, and pant.
You can use this muzzle when you are looking to socialize with other dog moms and afraid that your Pit may bite or ruin the date by barking all the time. You can also use it during your grooming sessions, vet visits, or while traveling, and you have to take your pawed friend along.
Made from eco-friendly, non-toxic materials, it is not just safe for your dog, but it is good for the environment too! Flexible and durable plastic rubber goes into making this muzzle. To top it all, it is extremely affordable.
Drawbacks
The size may run too big, so it may not stay put even if you adjust it to a tight fit, which does not serve the purpose.
Extra Features
This muzzle comes with an ergonomically designed safety strapping. This feature makes sure that the muzzle will remain securely in place.
Furthermore, two attachment points using a loop are designed to attach to your dog's regular collar. It will ensure that the muzzle fits well and is safe and secure, along with an over-head safety strap.
There is nothing worse than coming home after a long tiring day to find that your Pitbull has chewed your shoe, sofa, mat, toys, and whatever he could get his mouth on.
It is one of the best dog muzzles for chewing. So get this if you want to safeguard some precious objects around your house from your Pittie!
With this muzzle, your dog will have enough room for panting, drinking, and breathing. It comes in 2 different colors and five different sizes.
Buyer's Advice
Designed for long-snouted dogs like Pitbulls, if you are looking for an affordable basket muzzle to prevent your dog from biting and chewing while also being safe and comfortable, LUCKYPAW Dog Muzzle manufactured by Pettycart is a wonderful choice.
This particular muzzle is ideal for a Pit whose snout circumference measures 7 to 9 inches, and length is around 2.7 inches. Still, it is paramount to measure your dog's snout circumference and snout length, leaving extra room for panting, breathing, and drinking.
Alternative: CollarDirect Leather Muzzle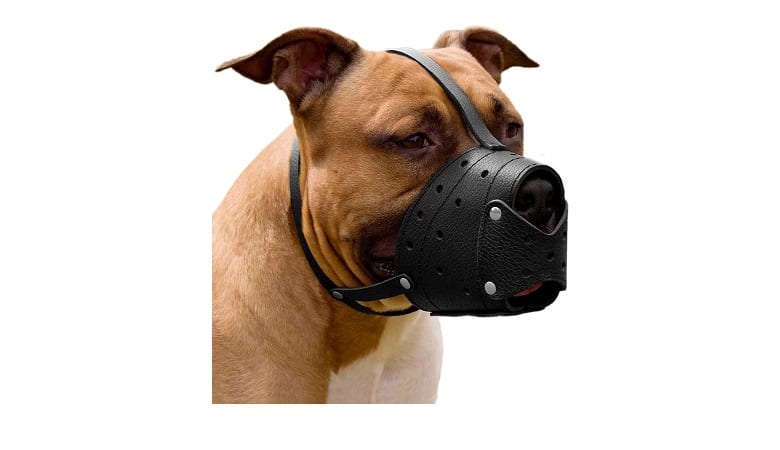 Featured Specs
Measures: 4.8 x 2.5 x 5.6 inches
Weighs: 3.2 Ounces
Size: Сircumference of dog's snout is 14″ and Length of dog's snout is 4″.
Material: Genuine Leather
Colour: Black and brown
Type: Basket
Benefits
Yet another CollarDirect brand on this list! It comes with slight differences from the other options on this list, although the price point is somewhat similar. Made from Europe, it is handcrafted like all other muzzles from the brand CollarDirect.
This muzzle provides a nice fit over your Pitbull's wider nose. It can also be used on Staffordshire terrier, Cane Corso, or other boxer dogs.
Made of pure leather, it will ensure safety, comfort, and durability. Just slip this muzzle on your Pit, and don't give further thought to safety on your vet visits, grooming appointments, dog walks, or park visits.
Drawbacks
Some dog owners had issues with the fit, but that is few and far between. Predominantly, the users seemed to be happy with their purchase.
Extra Features
This muzzle showcases two adjustable straps made of genuine leather for a nice, comfortable, and snug fit on your Pitbull.
The basket type muzzle allows plenty of air in so that your dog feels comfortable and does not get overheated, particularly during scorching heat. Handmade in Europe, this muzzle comes in 2 attractive colors – black and brown.
Buyer's Advice
Ideal for Pits whose snout girth is 14 inches and height is 4 inches, this gives more room, mainly if your Pit leans towards a bigger snout size! Attractive and safe, with this muzzle, there is plenty of room for your Pittie to pant to self soothe, drink water, and breathe comfortably.
Ensure that your walks, vets, dog park visits, and every other activity involving your Pit are safe, hassle-free, and thoroughly enjoyable!
Alternative: CollarDirect Dog Muzzle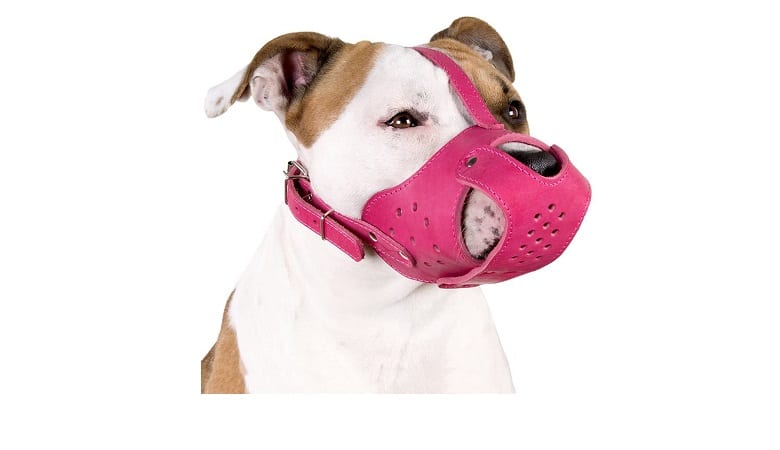 Featured Specs
Measures: 6.5 x 5 x 4 inches
Weighs: 5.6 Ounces
Size: Сircumference of dog's snout is 12-13," and Length of dog's snout is 4″.
Material: Genuine Leather
Colour: Pink; it also comes in black, grey, and chocolate brown
Type: Basket
Benefits
This muzzle deserves its place in the list of the best muzzle for your Pitbull for its functionality, durability, and aesthetic appeal. A brilliant shade of pink, it will look super fun and stylish on your beloved Pitbull.
Handcrafted in Europe and made with genuine leather, this muzzle is perfectly designed, keeping your Pitbull's snout in mind.
But if you have a Staffordshire Terrier, don't hesitate to use it because its snout is similar to that of a Pitbull. You can use it on any breed of dog with a similar snout.
Drawbacks
If there is one major drawback, it is that it comes only in one size. You may face some fitting issues, like few other dog owners.
Extra Features
It comes in 4 attractive colors: pink, black, grey, and chocolate brown. Easy to put on, this can be used as a training muzzle. The adjustable strap allows you to tweak the muzzle to fit your dog with perfect ease.
This basket muzzle also lets in plenty of air and safeguards your dog from overheating and dehydration. The handcrafted option makes it that much more appealing, durable, and attractive.
Buyer's Advice
On the same price range as that of other muzzles of the same brand, this handcrafted bucket muzzle is a nice choice to keep your Pitbull safe (and other dogs and people too!). Put it on your dog when the situation or the location calls for a puzzle.
With enough room to breathe, you Pitbull will feel perfectly comfortable in it, and importantly, he will also be able to drink and pant.
The standard size of 14*4 should fit your Pit, but it is always good to take his snout measurements before you buy a muzzle.
To measure the circumference, you need to measure 1/2 inch below their eyes for smaller and medium-sized dogs. For bigger ones, go all the way around the snout. To calculate the snout length, measure your dog from the inside corner of one eye to the tip of the nose.
Muzzles for Pitbulls FAQs
Should I muzzle my pitbull?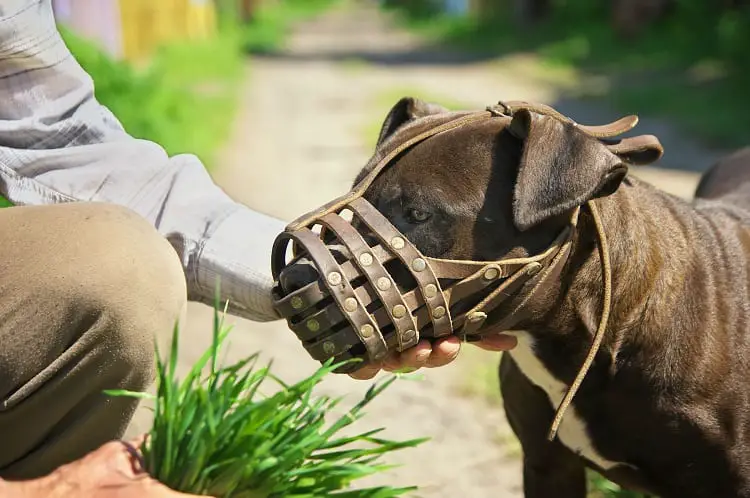 That depends on two factors: your Pitbulls's temperament and the circumstances. If your Pitbull has a biting history, you can muzzle him up when he is around people and other dogs.
Also, a vet or groomer's visit makes wearing a muzzle ideal to be on the safer side.
There are other circumstances like a walk, a park visit, or an injury because of which you may need to muzzle up your Pittie. Even if your Pit is not acting aggressively, specific locations call for a muzzle anyway.
What size muzzle does a Pitbull need?
This depends entirely on the size of your Pitbull. Something around 12 inches snout girth and 4 inches snout height may be ideal.
In either case, always measure the circumference of your Pitbull's snout and the length of its snout before buying a muzzle for him.
Will putting a muzzle on an aggressive dog make him more aggressive?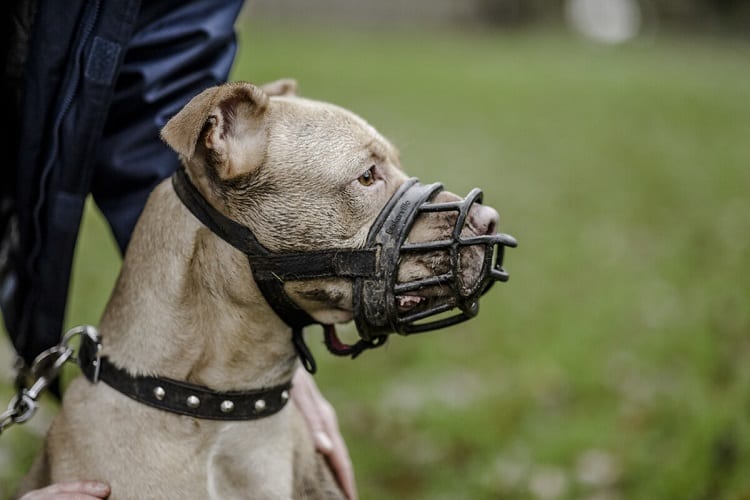 A muzzle by itself will not make your dog aggressive or change his temperament in any way.
But if you don't get him used to it and end up putting the muzzle on an aggressive dog for extended hours of time, he will end up becoming even more aggressive. As a result, he will act out or snap.
Should you muzzle a Pitbull all day?
It is not advisable to muzzle a Pitbull all day unless the circumstances call for it. If your Pitbull is way too aggressive towards other dogs or people, you may not have any other choice than muzzle him all day.
In any case, this will not change the dog's temperament. You need to find out what is causing your Pitbull to act out and address that.
How long should a Pitbull wear a muzzle?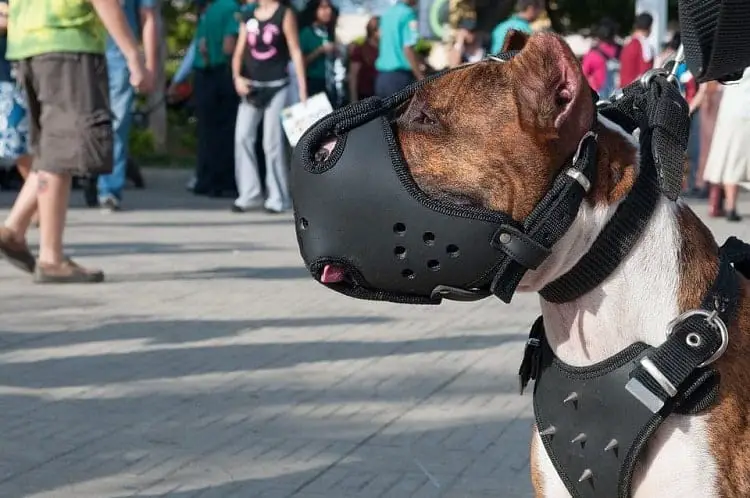 You need to get your Pitbull accustomed to wearing a muzzle for shorter durations starting with a few seconds and then minutes at a time.
Monitor for any signs of stress or discomfort. If he seems okay, get your Pitbull to wear a muzzle for around 15 minutes at home where he is the most comfortable.
You can then work towards getting him to wear it for 30 minutes when going out for a walk, a vet, or a grooming appointment. These sessions should last for much less than an hour, so getting him to wear for around 30-4 minutes makes sense.
If you have no option but to keep it on your dog for long stretches, provide short breaks where you allow your Pitbull to be muzzle-free before putting the muzzle back on.
Conclusion
There are different types of muzzles like – Wire basket muzzle, Plastic basket muzzle, and Soft muzzle made of fabric. The wire basket ones are not only more durable but will also support your Pitbull should they have to wear them for longer periods.
While buying a muzzle, you should keep some things in consideration. Fitting is the first aspect. The muzzle should fit snugly and comfortably, and your Pitbull should not be able to remove it off easily.
But there should also be enough room to allow your dog to:
Pant ( this is crucial for self-soothing and preventing overheating)
Drink water
Breathe (enough ventilation is needed for your dog's well being and comfort).
Maybe even enjoy a treat.
Play, jump, walk and do other activities with ease.
It is a good idea to measure the snout of your Pitbull for its height and circumference before buying a muzzle. It will ensure the perfect fit, and your dog will love you the more for it!
---