Last Updated on 11 months by Mike Ramsey
My leash is one of the best tools for training my dog – and you can do the same, as long as you get the right dog training leash.
I know, this can be difficult, because there are so many options out there. This article is intended to educate you on leashes in general and tell you which ones are best for dog training.
You can find a leash almost anywhere, but they are not all the same. The quality will differ depending on the brand – and the material used, there will be various features that come with them and some are better than others when it comes to teaching your dog.
I know that it can be frustrating when your dog doesn't do what you want and while the best leash in the world will not train a dog that doesn't want to learn, the leash can help with training in a lot of little ways.
That's why it is so important to know what's out there and make the best decision as to whether or not to get a leash, and which one to get if you are going to buy one.
This article will tell you what you need to know about dog leashes and how you can choose the best one for training your dog.
Every dog is different and every pet owner is different, which is why choosing a leash is so challenging. There are thousands of leashes on the market and you have to determine what materials, features and construction style you want.
Here is everything that you need to know about dog leashes so that you can make the best decision for your dog.
dog training leash types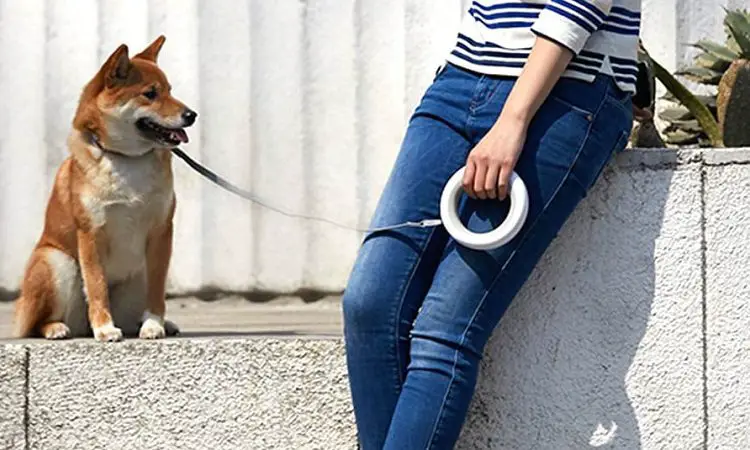 Here are some of the leash features out there so you can get a general idea of what is available and decide which are most important to you.
Retractable Leashes: The dog leash stays coiled up until the dog pulls on it and it will give you as much line as you desire to a certain point.
​Leather leashes: These are easier to grip and last for a lot longer.
​Reflective leashes: These generally have reflective tape on one or both sides of the leash so that cars will be able to easily see you.
​Leashes with easy, secure fasteners that make it easier to attach to your dog's collar.
Leashes that have matching collars with the same color, design or decorative items attached.
Smart leashes with built-in locater chips and various other smart technology that is designed to improve your dog's safety and your peace of mind.
The 5 Best Options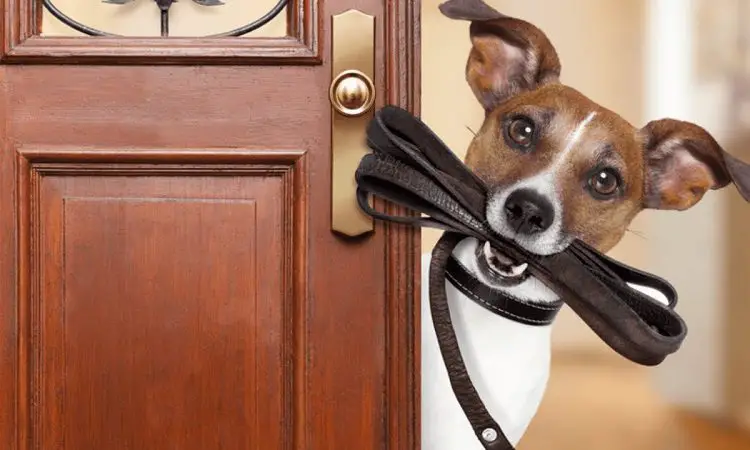 Here are our best options for dog leashes.
Leather Dog Leash
A leather dog training leash can be one of the best dog training leash options simply because of the quality that you get.
Your leather leash will last for a long time and it looks great as well. Leather is quite a popular option but you should also be aware that it is usually more expensive than other options.
Rope Dog Leash
A rope dog leash is also an option that you have, and the advantage that this type of leash provides is that it is strong but inexpensive.
You can pick these leashes up for just a few dollars and will they will last you a long time, but they do not look as good as leather leashes, nor as they quite as strong. You can find rope leashes that look pretty good for the price that they sell for though.
Reflective Dog Leash
The reflective dog leash is great for walking your dog at night. When it comes to being visible to traffic, there isn't a much better option than reflective tape, which is why it is used by police, fire personnel, construction workers and anyone else who needs to be visible in car headlights.
Traffic will be able to see their headlight's reflection on your dog leash and you will reduce your chances of being in an accident.
Retractable Dog Leash
The retractable dog leash is something that has become quite popular in recent years.
The advantage of this type of leash is that it usually gives you the option to choose your own leash. That means if you need to keep your dog near you, you can only let out a short amount of line, or you can extend it to full length if you are in the park or another area where your dog is able to wander.
Retractable leashes can make it easier to control your dog and they are usually made out of coated nylon.
Heavy-Duty Dog Leashes
Heavy-duty dog leashes are another kind that is on the market. These leash types are specifically made for heavy dogs that put a lot of weight and stress on the leash and collar, requiring that they stand up to a great deal of abuse.
Heavy-duty dog leashes are a little bit more expensive than some of the others on this list, but they certainly are useful for those dogs that tend to tear or rip the other collars that you have tried.
My Recommendations
As far as my recommendation goes, the first thing that you need to do is determine what is most important to you on a leash.
If you need a specific thing like hardiness or reflective tape (because you plan on walking your dog a lot at night) then the recommendations here won't mean much. But there are some really great dog leashes that will work for just about anyone.
What you want to do is decide which dog leash features you need and how much your budget is for a leash.
If aesthetics are most important to you, perhaps you want a leather leash with a little bling, but if you want to be able to let more leashes out when the area is bigger, the extendable leashes are perfect for you