Every pet owner needs a pet camera.
Pets can be unpredictable, and they can cause damage to your personal belongings or themselves when you're not away. That's why you need to invest in a functional pet camera of good quality.
We want to show you the benefits of having a pet camera in this guide. Not only will you become a more informed buyer, but you'll find out why pet cameras are the ultimate way to keep your pets safe.
Find out why you should have a pet camera in this helpful educational guide.
What Is A Pet Camera?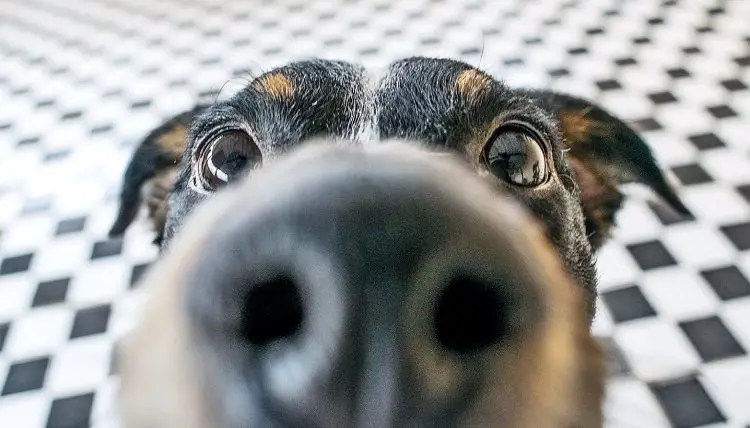 A pet camera is a fun and intuitive way to monitor and track your pet when you're not at home. It allows users to interact with their furry friends anywhere and at any time.
Most pet camera models are remote, meaning that you can access it via smartphone, computer, or tablet via one video monitor. Pet cameras provide some peace of mind for you and your pet, especially those with anxiety.
If you bad feel bad about leaving your pet at home by itself, pet cameras are a great way to reduce separation anxiety. You'll be able to keep an eye out for your pet, give them treats, and play with them while using the camera (depending on the pet camera you choose).
Why Do You Need A Pet Camera?
This is a question that first-time owners tend to ask frequently. Keep reading to understand why:
Talk And Listen To Your Pets
You can have a heart-to-heart conversation with your pet anywhere in the world.
A pet camera with a two-way audio system allows users to speak to their pets and interact with them in a fun, and engaging way.
Early Detection
Puppies tend to chew on our favorite possessions. Whether it's your favorite pair of shoes or something more expensive, chances are they will grab hold of it and start to eat it.
Rather than go outside for lunch, unaware of the destruction occurring at home, a pet camera helps you keep an eye on your pet and prevent them from destroying your most prized possessions.
Reduces The Worry
Whether you're anxiously texting the dog sitter from your vacation or when you're sitting at work wondering about your pet, a pet camera reduces that anxiety.
It eases your mind by letting you know that your pet is okay, which reduces the need to worry about them when you're gone.
Helps With The Housebreaking Process
It's a great thing that you love your dog. But the first months of having it home are crucial to its development.
Potty training your dog at this time can be very helpful as it allows you to keep an eye on them while you're gone. There will be no surprises, and you can take care of your dog more effectively.
Types Of Pet Cams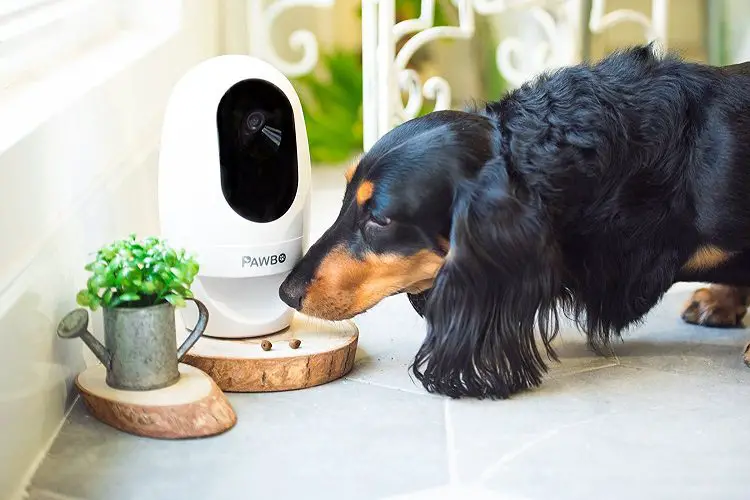 Here are the types of pet cams you should consider when shopping:
Indoor Or Outdoor Camera
Indoor cameras are perfect for puppies and pets who are most likely to stay at home.
They come in two options: wireless and security cameras. Wireless cameras are easy to set up, and only require an internet connection to view your pup.
But, there is one disadvantage of this type. Most wireless pet cameras don't offer real-time updates about your home. This gives your pet the freedom to roam the house unattended while also leaving the house vulnerable to burglars.
You should opt for a security camera to get the best results. Security cameras might take longer to set up, but they offer real-time alerts and notifications straight to your phone. It doesn't matter if your pet lives in the house or outside, a good security camera will protect it.
The same rule applies to pets who tend to roam your backyard while you're gone. Having a security camera for your pet ensures that it can play outside while still allowing you to direct them back in the house when they're done.
Pet Surveillance Camera
Just like the cameras placed outside professional institutions (restaurants, companies, etc.), pet surveillance cameras offer the highest amount of protection. With the camera, users can not only monitor their pets but also be alert in the event of an emergency.
Such emergencies as your pet becoming injured and an intruder can unexpectedly enter your house. Pet surveillance cameras have a longer viewing range and allow you to contact the police if an intruder does break in.
You'll have to pay for a pet surveillance cam, but the reward is a huge payoff. No longer do you have to worry about your pet causing trouble; you can keep them safe while you complete your daily operations.
Interactive Pet Camera
Sometimes you'll want a camera that allows users to have fun with their pets. If this is the camera you're considering, get a pet camera that gives treats. They allow you to interact with your pet while also giving them treats once they complete a certain task.
Some camera models come with a WiFi 2-way pet camera that allows the owners to interact with their dogs even easier.
It allows you to chat with them and potentially give them a snack based on their behavior. Interactive cameras are a surefire way to take care of your dog while having fun doing so.
Pet Collar Camera
Here are a few benefits and things we can learn from using a pet collar camera.
Find items in your home that are not puppy friendly. Pet owners walk around with a different perspective of their pets. While you can try to make your house a complete puppy-safe home, there are still things that will get out of your line of sight. Having a pet collar cam places the camera on your pet's eye level and prevents hazards and easily corrects the problems
See if your pets are entering prohibited areas while you're away. Some homeowners have specific rules about their pets being on furniture such as beds and couches. Pet cameras allow owners to see if their pet is misbehaving and help them take protective and corrective actions such as installing a puppy gate or shutting doors. Find out the different spaces in your home and press record once you find the one that gives you the most coverage
See which pet is causing the most problems when you're away. This is important when you have multiple pets in your household. You don't want to scold the wrong pet for making a mess accidentally. Investing in a pet camera allows you to find the best solution to your dog's mess creation. It also helps you find out what items you need to keep from your pet
You can record your pet's reaction once you leave the house. Do you ever wonder what happens to your pet when you're not home? A pet camera helps you understand your pet's emotional state and helps you create an emotionally soothing environment during such stressful times
Specs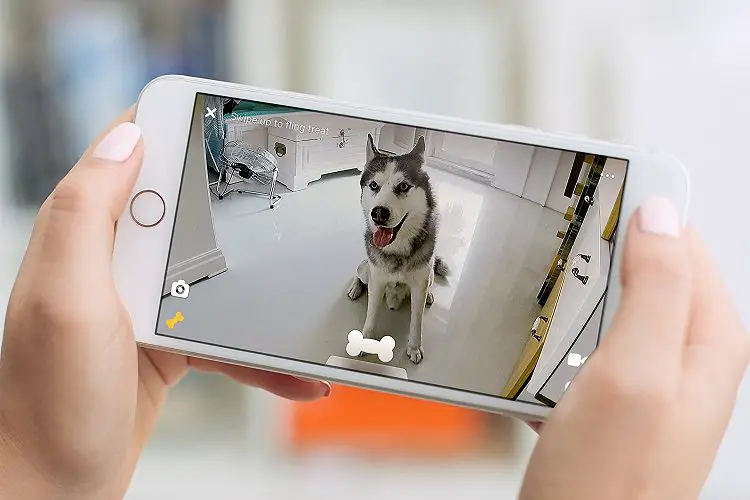 It's necessary to understand the specs of your pet camera before buying one. Doing so prevents you from making impulsive purchases and buying a camera that won't work the best for you and your pet.
Read below to find the most common specs that you'll find in a pet camera. When shopping, search for the camera whose specs is best suited to you and your pet's personal needs.
Zoom
What's a good pet camera if you don't have any zoom-in capabilities?
Try to opt for a camera that has a 4x zoom distance or more. This allows you to view your pet further and see exactly what they're doing. If possible, get a camera that can zoom in on your pet while retaining its video quality.
Two-Way Audio
Having a two-way audio feature allows you to connect with your pet better emotionally.
Cheaper models have a one-way audio system where only the user is heard. This isn't as beneficial as you'd think as the one-way audio only creates a barrier between you and your dog.
Two-way audio systems allow you and your dog to hear each other. You'll be able to talk and play with your dog while you're remotely away. And, you'll be able to calm anxious pets by telling them that you're on your way home.
Sound Detection
Sound detection is a great feature that most pet owners tend to overlook.
Not only do you need to see and hear your pet, but you also need to be aware of the sounds that occur throughout the entire house. This allows you to protect your pet from burglars and keep them safe.
Interactive Options
You're going to need a pet camera that allows you to interact with your pet.
Here are the most common interactive features that you'll find in most high-end pet cameras.
Laser Dot Chasing
This is a game that most pets tend to love. Your pet camera creates a red dot, and your pet will instantly become attracted to it. Most of the time, they'll chase after it making it a fun game to play.
If you have a playful dog or cat, try to get a camera with this feature. It will allow you to interact with them and keep them entertained until you're on your way home. This interactive option will reduce your pet's anxiety and create a fun environment for them.
Social Media Sharing
With a pet camera, you can easily monitor your pet's movements and help them enjoy themselves while you're away.
Some higher-end models come with an option to share such recordings. For the social media aficionado, buy a pet camera that allows you to record and share your experiences with your pet on Twitter, Facebook, and Instagram.
WiFi Options
This is one of the most important features that you need to consider.
Without a good connection, you'll be unable to interact with your pet. Here are a few Wi-Fi options that you should look into before buying your first pet camera.
Bluetooth
Bluetooth pet cameras allow you to set them up and install them via your phone easily.
But there are a few drawbacks. Bluetooth cameras have limited space and are unable to share videos in comparison to their Wi-Fi counterparts.
Wi-Fi
If you have a strong internet connection, a Wi-Fi pet camera is the best option.
It will allow you to connect and access your pet faster than the Bluetooth method. Buy a camera with Wi-Fi capabilities to ensure that your pet is safe at all times.
Memory Storage Options
Sometimes, you're at work for hours on end, and you won't be able to check on your pet as often as you'd want to.
That's where stored images are a great option. This helps you get an idea of what your pet is doing while also archiving the images for later usage.
Here are the three most popular memory storage options:
SD memory cards help users choose the storage amount that you want and change it for a new card once the memory reaches its capacity. You'll have to purchase multiple SD cards separately in order to receive the most benefits
Internal Flash camera memory comes already pre-built into your pet camera. While they can't be expanded, it can be paired with alternative forms of storage
Cloud-based services can place your images on a remote server that's maintained and operated by the camera's manufacturer. This saves your hard drive from getting filled with files of your pet
Night Vision
If you plan on working for long hours, it's best to buy a camera with some night vision capabilities.
Night vision pet cameras allow the user to see their pet, while also preventing them from becoming too anxious while they're away.
Look for a pet camera that has an infrared night vision feature. Infrared is more accurate and can view your pet's nocturnal motions easier to read and track.
Viewing Angle And Resolution
The viewing angle varies amongst each pet camera. It measures how wide of a camera shot the device will give you.
If you have a pet that sleeps a lot, a narrow viewing angle is a good choice. But if you have a playful kitten, then a wide camera view will help you see them play around the room.
You also must invest in a pet camera that has high-definition video. Anything below 720p resolution might result in a blurry screen.
For pet owners who are trying to share their videos via social media a pet camera with a 1080p resolution is the optimal setting.
Monitoring Apps
Invest in a pet cam with an easy-to-use and read interface.
It's the main mode of communication between you and your pet and can be controlled by your smartphone when you're not at home. It's also controlled by the camera when you're home.
Based on our research, the monitoring apps are usually free and can be downloaded via Google Play and iTunes. This means that you can test out a monitoring app before buying the full device.
While you won't be able to do everything with the free trial app, you can get a feel for it and see how the interface works for you. We recommend that you get an intuitive interface with a good user-designed system so that you can navigate through the app faster.
You can take a look at the settings menu to see the amount of control you have over the product once you buy it.
This is very important when you're trying to set up motion and sound alerts. You'll be able to see how the product's control options work and give a way to share the images via social media.
Manufacturers
There are plenty of pet cameras on the market that can offer animal owners priceless peace of mind.
Here are our top recommendations:
Petzi
Petzi was founded in 2013 in San Jose, California. Their main purpose is to promote high-quality pet cameras and is a leader in the Internet of Things (IoT) regarding pet solutions.
Buy from this manufacturer to ensure that your pet will receive the highest quality of care they deserve.
This company has gained a reputation for creating technological solutions that help promote interactivity, training, health maintenance, and an overall good relationship between the owner, pet, and other animals that they love.
Petcube
Everyone loves their pets, but their busy lives can keep people away from their pets when they want to remain close.
That's where Petcube comes in. The manufacturer started in 2012 in San Francisco California.
Petcube is a global leader in creating a connected home through its pet care products. Their first product was called the Petcube Camera which allows owners to play, see, and talk to their pets from their smartphones.
This company is dedicated to helping people connect with their pets due to its cutting-edge technology. We suggest you buy from Petcube if you want to keep your pets in good spirits while you're at work or on vacation.
Pawbo
Pawbo began in 2014 by a team of people who have a passion for technology and their pets.
While it's a new company, Pawbo has made some major innovations and changed the way we interact and communicate with our pets remotely.
Through the integration of software, hardware, human pet-centric approaches, and high-quality service, Pawbo creates products that help people enjoy the perks of being responsible pet owners at any time.
Feed And Go
Feed and Go is known for having the best live-stream pet cameras in the market. Their products come with a built-in webcam that helps owners quickly interact with their pets.
And, their dog food containers can fit both wet and dry food with no issue.
Not only do they sell high-end pet cameras, but their automatic pet feeders are another advantage that they have against competing products. For owners wanting to feed their pets and keep them safe, Feed and Go are the right company for you.
Maintenance And Cleaning Guide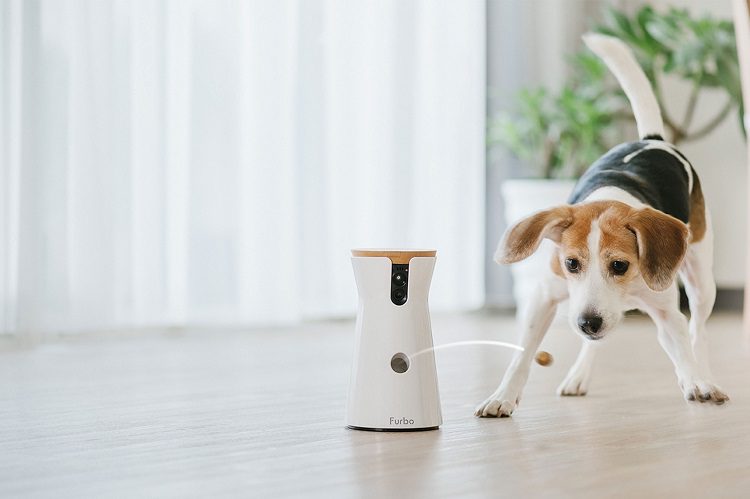 Keeping your pet camera properly maintained is the best way to enhance its lifespan. As your dog ages, you're going to have to take further care of them and its aging health.
Here are a few maintenance and cleaning tips to keep in mind:
Check for mounting and placement options. Some cameras consist of a no-surface bottom so that the device doesn't move around too quickly. Most models have a wall mounting kit which helps you place the camera on the wall and a safe range away from the pet
Look at the construction of the device. Some pet camera models consist of hard plastic and sturdy metal. Cheaper cameras are flimsy and will break if tipped over. Make sure that the pet camera is durable and won't become damaged or knocked over on accident by your pet
Dispense treats from the camera carefully. Use caution when giving out treats on the app as it can cause some issues. Watch your pet's location and ensure that they don't get hit by accident with a treat
Ensure that the treats you're dispersing are familiar. Most pet cameras allow you to dispense treats that you already use with your pet. This reduces the chance of a choking hazard and ensures your pets can eat from the device safely
Stay diligent. Just like any product, exercise proper safety mechanics and see if the camera is a good fit for your pet and your needs. Since there are multiple pet preferences and personalities, there isn't a one-solution camera
Conclusion
When it comes down to it, a good pet camera needs to be an entertaining piece not only for the owner but for the pet itself.
Resources: