Last Updated on 11 months by Mike Ramsey
Thinking of a career as a pet groomer?
Before we explain how to become a groomer for dogs, you need to have a clear idea of what it is like to be a pet groomer, what skills and education you need, and what your long-term prospects are in terms of career growth and financial expectations. So, let's dive right into it!
What Does dog Grooming Involve?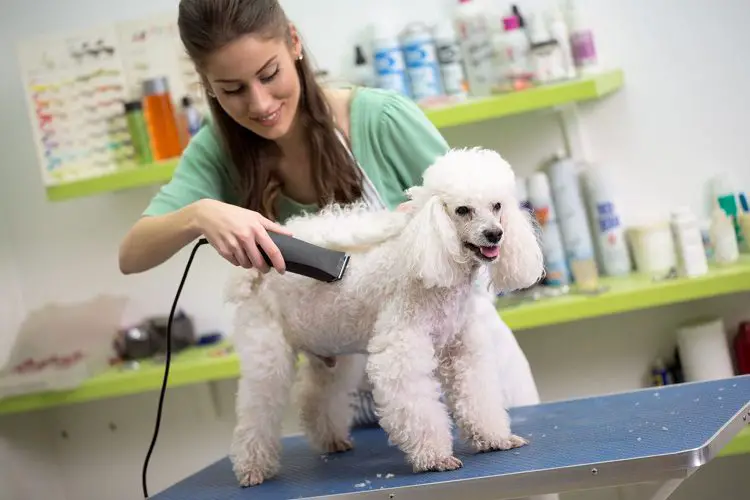 Pet grooming involves bathing, brushing and trimming amongst many other things to make someone's beloved pet look fabulous.
But, a professional pet groomer does not stop there, he or she also inspects the animal to potentially detect any health problems early, such as ear infections or teeth problems, give the owner some advice on everyday grooming, and just has a genuine fun interaction with both the furry clients and their parents.
What are the Perks of Being a dog Groomer?
You get to spend time with dogs and cats and horses and many other animals – every day!
You have a flexible schedule.
You don't need to invest vast amounts of time and money to enter the business and get the necessary education.
You can set up your own business relatively easily.
You get to interact with other people.
You are able to specialize – love getting show dogs ready for the big day? – you can do just that all day long!
You can keep learning and perfecting your techniques.
Last but not least, you get paid for all that! Isn't that amazing?
How To Become a dog Groomer?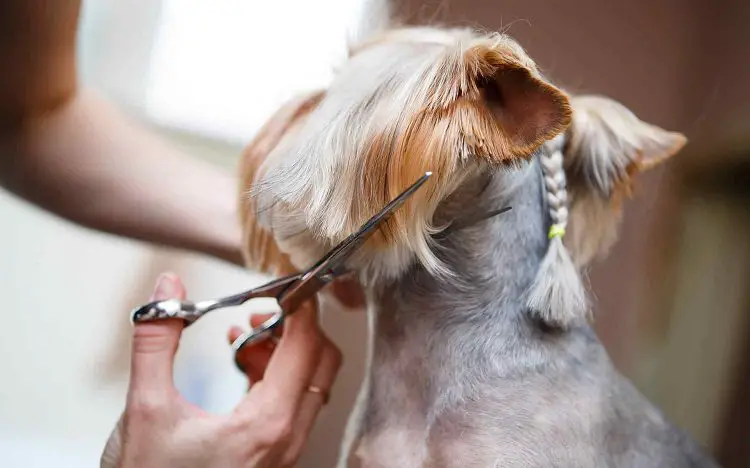 Now that we got the basics covered, let's talk about the skill set you will need to develop in order to become a successful dog groomer.
Bear in mind that if you don't have those skills yet, all you need is some dedication and you will acquire them in no time.
Love Animals…duh! – Now, quite naturally, you will need to love cleanliness and…drumroll…animals! Dogs are usually groomers' most avid clients but be prepared to work with all kinds of animals.
Communication Skills – Also, develop strong communication skills to work with their parents, as those will be the ones to come to you over and over again or…maybe never again. So, make sure you are punctual, treat animals with the care and respect they deserve, and don't neglect the owners.
Patience. Lots of it – Another important factor is to have patience. Some dogs may require extra time, be anxious or hyper, and you need to be ready for this. And if your furry client barks too much, you can learn how to deal with it here.
Basic Dog Handling Skills – You also need to be able to handle dogs that have temperament and various behavior issues. So make sure you learn how to handle dogs and what to do when you are around a dog with behavioral issues.
Attention to Detail – Be very careful not to accidentally cut or burn your furry client. It does happen even to the most experienced of all dog groomers at times, so if that happens, don't panic. Let the owner know what happened immediately and offer to take the dg to the vet.
Entrepreneurial Skills – If you have your own pet grooming business, then people management and some good old business sense will help you get the word out, and attract and retain your clients. Stand out from the competition!
Knowledge – Knowledge of dog anatomy, for example, if you are a dog groomer, and potential health issues for various breeds is an asset, since, as mentioned earlier, a professional groomer will also inspect his furry clients to detect potential health issues.
As far as education goes, you currently are not required to get any professional certifications. So for those who learn best by doing, this is a great opportunity to shadow an experienced groomer and practice their way up.
However, it never ever hurts to be ahead and know more than the rest of the competition, so do not neglect learning opportunities. There are online courses on pet grooming you could take or even professional certifications.
As far as grooming schools go, most states will have a few options for you to consider, and you will need to spend a few thousand dollars and, on average, 150 to over 600 hours practicing depending on the school requirements.
You can take a look at online certification programs here, and here are a few well-known schools you can check out: New York School of Dog Grooming, the American Academy of Pet Grooming, and the Nash Academy.
If you would like to be recognized as a "National Certified Master Groomer", then you can complete the National Dog Groomer's Association exam with written and practical skills tests.
The certification will cost you a couple of hundred dollars and will take a few days, but you will be recognized by one of the largest and most well-known grooming associations in the states.
In addition, you must be familiar with each breed's grooming standards, which are set by the American Kennel Club (AKC). Remember that each breed has its own style and unless you want to make a lion out of a golden retriever, you need to stick to those guidelines.
Remember to always make sure your vaccinations are up to date, and avoid bites and scratches, even though most salons require a proof of vaccination in advance. Safety first!
Job Prospects & Mobile Pet Grooming Business Plan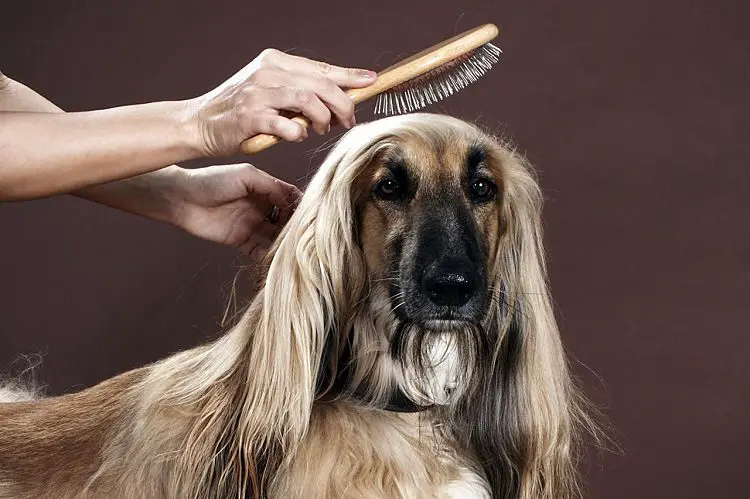 For those who are interested in working as a pet groomer, the good news is that the demand for this profession has been steadily growing and is projected to grow by 11% between now and 2024, according to the U.S. Bureau of Labor Statistics. The median salary of a pet groomer was around $29,615 in 2016.
Now, if you are interested in setting up your own business, or becoming a contractor for an existing salon, mobile grooming has been really taking off lately.
Take a specially equipped van and travel around to see your furry clients in the comfort of their own home!
Here are some tips from Mary Hope Kramer, an animal industry professional and writer with over a decade of experience, on what you need to start the mobile pet grooming business.
Experience
The first step to opening your own mobile dog grooming salon business is to gain experience grooming a variety of dogs, either through a professional training course or a hands-on internship with an experienced groomer.
While certification is not required to become a dog groomer, some groomers choose to seek certification as a National Master Groomer through the National Dog Groomer's Association of America.
Working for an established grooming salon before starting your own will likely prove beneficial as this exposure will introduce you to the ins and outs of running this type of business.
Prior experience working with animals in other professional roles such as veterinary technician, pet sitter, or dog trainer is an additional plus, as it familiarizes you with canine behavior and how to handle dogs effectively in a variety of situations.
Business Considerations
Before opening your mobile dog grooming business, you must consider various business and legal issues.
It is important to consult an accountant or another experienced advisor regarding the advantages and disadvantages of forming your business as a sole proprietorship, limited liability company, or other entity.
You should also be in touch with your local government with regard to any permits that may be needed to operate a mobile grooming salon in a particular area.
Requirements for the operation of a mobile business may vary from one town to another. You should also consider obtaining a business insurance policy in addition to the basic vehicle insurance policy.
Mobile Vehicle & Equipment
Most mobile groomers operate out of a large van or trailer. These are usually specially converted vehicles that have been outfitted with a generator, electrical outlets, lighting, grooming tables, running water, and a bathtub.
The National Highway Traffic Safety Administration sets the standards for vehicle manufacturers and converters.
Mobile grooming salons must be equipped with all standard grooming tools such as clippers, scissors, shears, shampoos, brushes, blow dryers, nail clippers, ear cleaning products, bandanas, and bows.
Define a Service Area
The next step is to define a specific area within which you will travel to service clients with your mobile grooming business.
You may be willing to travel throughout a small town, or perhaps just focus on one section of a large city or metropolitan area. Another option is to take appointments in different areas on specific days of the week.
Mobile dog groomers may benefit from planning visits to apartment complexes, condominium buildings, office complexes, or assisted living centers to service several clients in one location on a particular day. This provides great time and travel savings for the mobile groomer.
Price Your Services
When pricing the cost of an individual grooming visit, you must consider the breed of dog, the type of cut, and the time it takes to complete the appointment. If there are other mobile grooming units in your area you should be sure to price your services competitively.
Your prices will likely be higher than those found at brick and mortar businesses because of the additional operating costs for gasoline, maintaining the vehicle, and time spent traveling between appointments.
This extra convenience charge is usually expected by clients who value the fact that the service comes to their doorstep and saves them time and travel.
A modest surcharge on top of a standard (non-mobile groomer) price seems to be acceptable to most mobile grooming customers. Early morning, evening, or weekend appointments may command an additional convenience premium.
Advertise
The best place to for your advertising is on the mobile grooming vehicle itself. You should prominently feature your business logo and contact information on the sides and rear of the vehicle, whether through a custom paint job or utilizing large magnets affixed to the doors.
Additional advertising can be posted on the bulletin boards of vet clinics, animal shelters, pet stores, or other animal-related businesses.
You may also be able to develop a reciprocal referral arrangement with local animal services providers such as dog walkers, pet sitters, doggie daycares, and pet photographers.
You might also consider giving a special discount for first-time customers as well as customers who refer their friends to you.
Creating a website or email newsletter can also create additional advertising exposure and keep your current clients up to date on your schedule and promotional offers.
If you are not ready yet to be a small business owner or do not aspire to be one, you can find plenty of other opportunities.
In fact, you could work anywhere from large pet-themed specialty stores, animal hospitals, kennels, and shelters to upscale hotels and resorts. Below you can find some details on a number of other animal-care career opportunities.
Veterinary Assistant and Laboratory Animal Caretaker
With a high school diploma and on-the-job training, these workers care for animals in animal clinics and hospitals, in addition to those in research laboratories.
From 2014-2024, the BLS projected average employment growth of 9%. In 2015, the BLS reported an annual median salary for these workers of $24,360.
Veterinary Technologist and Technician
After completing 2-4 years in veterinary technologist programs and possibly obtaining a license, these techs perform medical testing to diagnose animals' injuries and illnesses and work under the supervision of a licensed vet.
A much faster than average job growth of 19% was expected from 2014-2024, according to the BLS. In 2015, the BLS also reported an annual median wage of $31,800 for vet techs.
Organizations that offer professional grooming certifications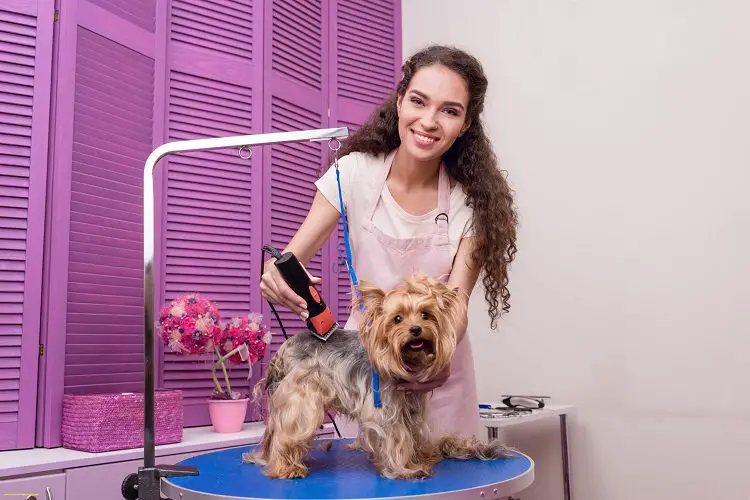 International Professional Groomers Inc.
International Professional Groomers Inc. (IPG) is a worldwide organization that certifies individual groomers and also offers accreditation to grooming schools, grooming salons, and mobile grooming salons.
Groomers can pursue two certification options with IPG: the International Certified Master Groomer (ICMG) program and the Salon Details Certification (SDC) program. The total cost to achieve both certifications was quoted at $705 in 2014.
The International Certified Master Groomer (ICMG) option, also referred to as breed profile certification, involves a variety of written and practical tests that must be completed within a five-year period.
Testing is based on the standard of excellence for the breed (using AKC standards in the United States and corresponding organizations in other countries).
Subjects include salon details, non-sporting breeds, sporting breeds, terrier breeds, and a Masters Examination that includes herding, working, toy, and hound groups.
The Salon Details Certification (SDC) option is a new program (established in 2014) that endorses groomers for handling animals safely and professionally while adhering to a strict code of ethics.
International Society of Canine Cosmetologists
The International Society of Canine Cosmetologists (ISCC) is a global organization that certifies dog groomers through a combination of written and practical skills examinations. Testing is offered at all ISCC educational events, some major shows where ISCC has a booth, and through local proctor services in the applicant's hometown.
Practical exams involve styling sporting, non-sporting, and terrier breeds. Most tests cost from $50 to $125 each, though the final two tests (300-level thesis and styling presentation) are billed at a cost of $1,000 and $1,500 respectively.
National Dog Groomers Association of America, Inc.
The National Dog Groomers Association of America, Inc (NDGAA) is a professional association that offers certification through its National Certified Master Groomer (NCMG) program. The NCMG certification involves a variety of written and practical skills tests for several breed groups.
The practical skills tests include the grooming of non-sporting breeds, sporting breeds, long-legged terriers, and short-legged terriers. Written exams include non-sporting, sporting, and terrier groups and are based on AKC standards.
The final phase is the 400 question National Certified Master Groomer Exam that covers other groups (working, toy, and hound) as well as general terminology, health care, pesticides, clipper identification, and even some cat questions.
The testing fee is $125 per breed group exam (including both the written and practical elements of the testing). The Master exam also costs $125 and can only be scheduled after all prerequisite exams have been successfully completed.
Once achieved, the NCMG professional certification must be renewed each year at a cost of $50.
International Certifications
There are also several dog grooming certification options that are available only in specific countries, such as the City & Guilds accredited qualifications for dog groomers in the United Kingdom or the Higher Diploma in Dog Grooming offered by the British Dog Groomers Association.
Resources: