Last Updated on 7 months by Mike Ramsey
Flying with a dog or any pet can make travel a little more complicated.
Airlines tend to have pretty tight restrictions about pets and if you are flying to a different country (or sometimes even just a different state), you might encounter some additional restrictions.
So the important thing is to do plenty of research in advance and get everything set up as early as you can. That way, come the day of your flight, you've got everything you need and you're completely prepared.
In the article below, we'll help you get started by giving you some tips for dog airplane travel and talking about the 6 most important things you'll need for flying with a dog.
Tips For Comfortable Dog Airplane Travel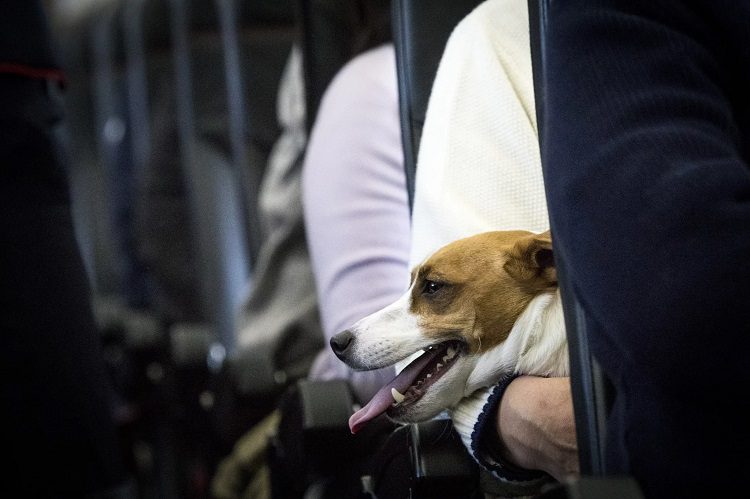 Traveling by plane with a dog is one of the more complicated ways to travel with a pet.
So before we talk about the essential gear to have, take a look at some of these tips for making the process go as smoothly as possible.
Book The Flight Early
Most airlines have a limited number of spots available for pets. So even if there are plenty of seats left for people, pet spots can fill up quickly.
Book earlier to make sure you get the flight you need and are able to take your pet with you.
Expect Extra Fees
Airlines do tend to enjoy adding extra fees whenever they can.
Make sure to do some extra research into what kind of fees the airline charges and include some wiggle room in your budget to handle those added expenses.
Minimal Food And Water Before The Flight
One of the biggest concerns on longer flights are bathroom breaks. Planes aren't designed with space for your dog to use the bathroom. And you certainly want to avoid them going in their carrier.
One way to manage this is to minimize food and water before a flight. If your dog absolutely has to go, use the handicap bathroom and the potty pads discussed below.
Lots Of Exercise Right Before The Flight
Sitting in a cramped space for hours is annoying enough if you're human. For a dog, it can be miserable especially because they have no idea how long it's going to last.
To help make it easier, take your dog on a long walk right before the flight and even play with them a lot to wear them out as much as you can. That way, come flight time, they'll be happy to sit in their carrier and relax.
#1 Airplane Dog Crate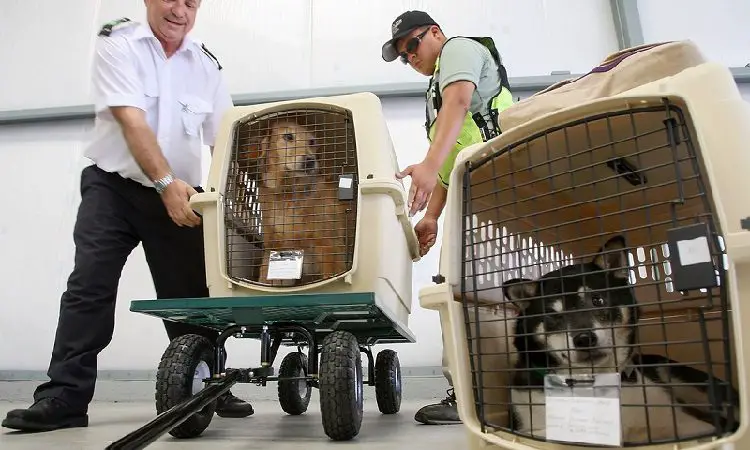 The best dog airplane carrier for you will depend on how your dog is traveling.
If they are going to be stored in the cargo hold, you will want a larger crate that can fit your dog and some extra blankets, toys and maybe even a little food and water if you get one with no spill holders in it.
While you need something more compact for the cabin, you can afford to give your dog a little more space to move around with a larger dog carrier for airplane cargo hold.
This will make the journey a little easier on them. However, we recommend taking them in the cabin with you if at all possible.
#2 Airplane Dog Carrier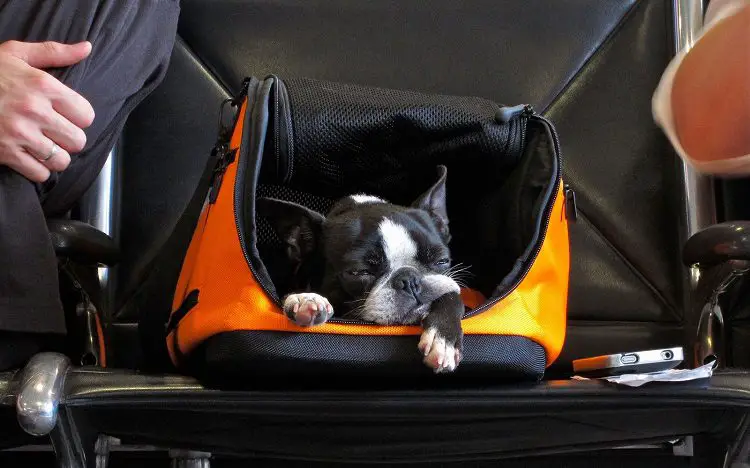 For an in-cabin airplane carrier for dog, you need something smaller. It usually has to be able to fit underneath the seat. So it's only a practical option if your dog is small enough for this.
When shopping around, the product will usually specify whether or not it's designed to fit under an airplane seat.
#3 Dog Potty Pads And Absorbent Carrier Lining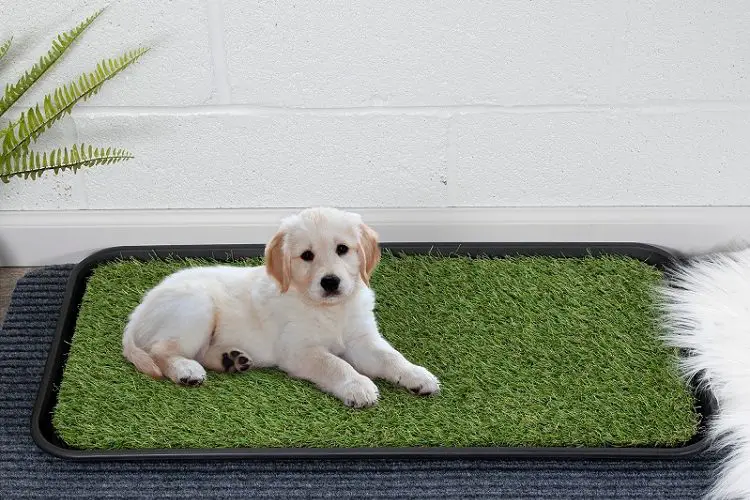 Dog potty pads are good to have on hand in case your dog absolutely has to go to the bathroom in flight. An absorbent lining inside the carrier is also good in case your dog has an accident.
The lining can whisk away the moisture so that your dog doesn't get wet and cold.
#4 Dog Food And Water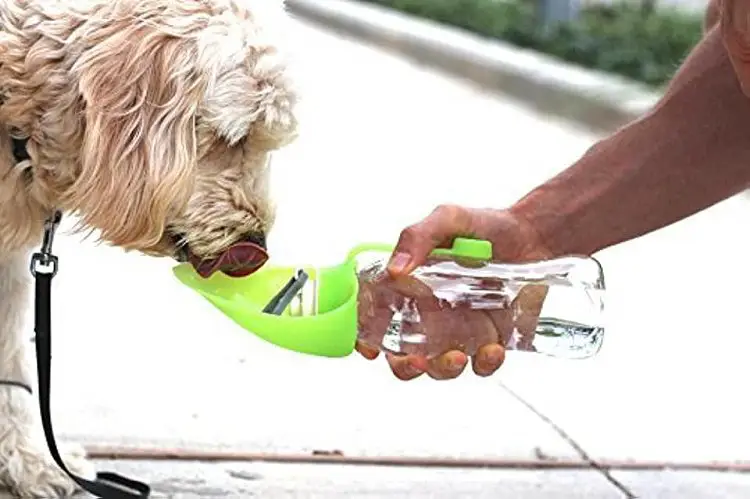 If it's just a couple of hours, you can get away with letting your dog go without food and water but make sure to feed them as soon as you can after you land.
However, if it's a longer trip, you will have to feed and hydrate your dog. You don't want them to starve! Keep portions small so that potty breaks are easier to manage.
#5 Dog Health Certificate Or Passport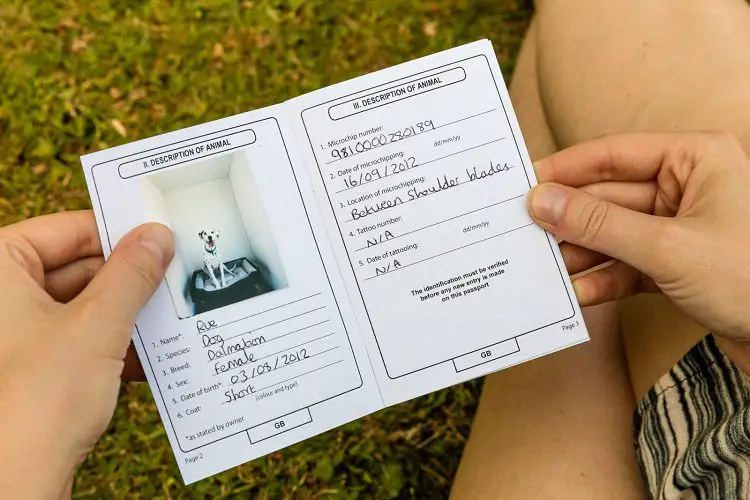 If traveling between states or countries, you'll need to follow any special restrictions regarding pet travel. It's a good idea to look into the exact requirements beforehand.
And even if you don't find any special requirements, it's a good idea to get an official health certificate from your vet anyway.
Sometimes, the airline itself will require this document even if the place you are travelling to does not. So it's better to have it and not need it than to need it and not have it.
#6 Extra Blankets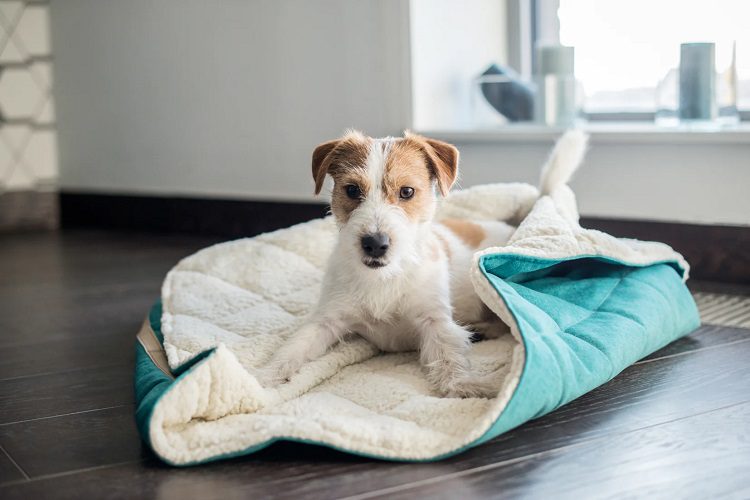 Whether in the cargo hold or under the seat, airplanes can get cold. Extra blankets will keep your dog warm and cozy.
Plus, blankets with the familiar scent of home will help keep them calm and relaxed despite the stresses of flying.
Final Word
The most important decision you'll make is about which dog airplane carrier you will get. This decision will mainly be based on the size of your dog and whether or not they will be travelling with you in the cabin or down in the cargo hold.
Once you have the best dog carrier for airline travel, the rest of the items are a lot easier to get. So start doing some extra research and thinking about what kind of airplane dog kennel will work best for your pooch!