Last Updated on 9 months by Mike Ramsey
The other day we witnessed a rather unusual incident in which a Great Dane in the neighborhood had found a new toy for itself.
It was a coconut and the big fella was having a whale of a time with the new-found toy.
However, as soon as the pet parents discovered their pooch's fascination with the coconut, they quickly confiscated it and it vanished inside the house much to the dog's dismay.
Later, we had this discussion where the pet parents were quite curious about what would have happened had the dog managed to break it open and gulp down a few juicy tidbits.
Their confusion was, can dogs eat coconut? Is it really safe?
This stems partly from the fact that a lot is written about coconut oil for dogs but there's very little literature that speaks about the potential benefits or risks of giving your dogs coconut.
So here goes.
Are Coconuts Safe For Dogs?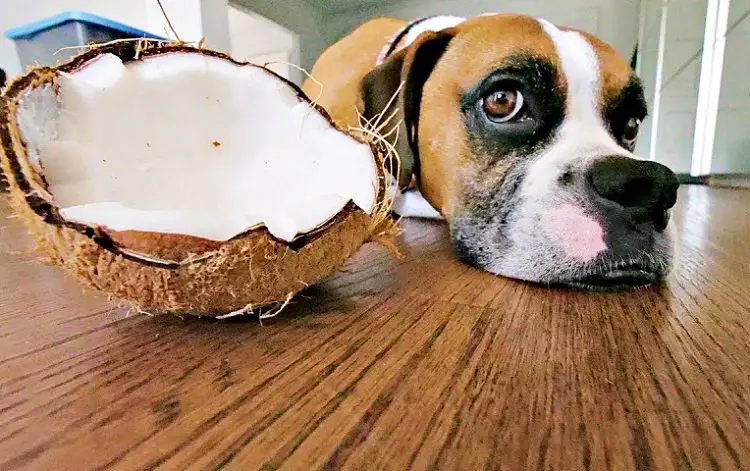 Yes. Coconut is a completely safe snack and quite nutritious at that. Dogs love the flavor and the fact that freshly grated coconut has a bit of crunch, makes dogs drool at the sight.
From a nutritional point of view, the Lauric acid in coconut, helps ward of viral infections in pets and is also known to be a natural immunity booster.
It is also rich in dietary fiber and contains a whole blend of Vitamins including C, E, B1, B3, B5 and B6. There's selenium, calcium, iron, phosphorus and sodium.
The albumin content in coconut helps to boost the formation of red blood cells in dogs. The natural vitamins are extremely beneficial for the skin and the coat of the dog.
Now for the potential risks and the usual 'do it in moderation' bit.
How Much Coconut Can You Give Your Dogs?
Personally, I would consider making it a weekly or a bi-weekly snack in measured quantities. I also like to throw in some coconut water along with it. The fact that my pooches have a liking for anything coconut definitely helps.
You can always alter this and create your own schedule for giving coconuts to your pet. Just ensure that you control the portion sizes and keep it in moderation.
If your dog doesn't like fresh coconut meat, then you can always consider giving them unsalted or unseasoned coconut chips.
Oh yeah, almost forgot to mention that allowing your pet to use a whole coconut as a substitute for a toy is not recommended.
An overzealous dog can hurt his teeth or gums while trying to crush or break open the coconut. In the rare event that they are successful, the hard edges of the broken shells can injure the internal organs or even choke the pet.
Coconut Oil For Dogs
If your dog is struggling with skin or coat problems like dryness or flakiness, add a tablespoon of organic and cold pressed coconut oil to their diet. It helps to keep the coat shiny and glossy.
You may notice that the stools turn soft and runny for a day or two later. But that's completely normal and will ease off as the dog's body gets used to the oil.