Although your bulldog doesn't require an extensive exercise routine, you do want to take it out on regular walks so that they don't get overweight, which Bulldogs are prone to doing.
Now you could use a regular collar, which is great if you are starting the training process. However, if your Bulldog is already trained, you might want to consider a harness instead.
A harness is a great option because it can keep you in control of the dog while you're walking, but they also are much more comfortable for the dog to wear.
The only problem you might have is choosing the best bulldog harness for your pup, as there are countless choices to choose from.
Different Types Of Bulldog Harnesses
As you read through this guide, we will talk about the different kinds of harnesses and help you decide which is the best for your dog.
Back Clip Harness
Front Clip Harness
Tightness Harness
Back Clip Harness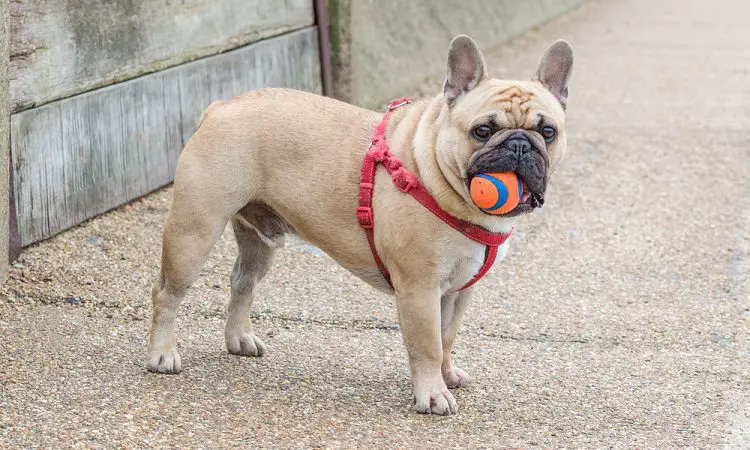 The back clip harness is one that has a D-ring on the back of the harness. These harnesses are a fantastic choice when you are looking for a harness that you can use to walk your dog with.
They are especially useful when you are walking a small dog who has a thin neck that could be hurt by your typical collar—or like a Bulldog who doesn't have much of a neck, to begin with.
The back clip harness is great for Bulldogs who are calm and don't pull on their leashes.
Pros
Easy to put on
Comfortable to wear
The leash doesn't get tangled
Protect the neck
They're cute!
Cons
Little control if the dog has behavioral problems
Front Clip Harness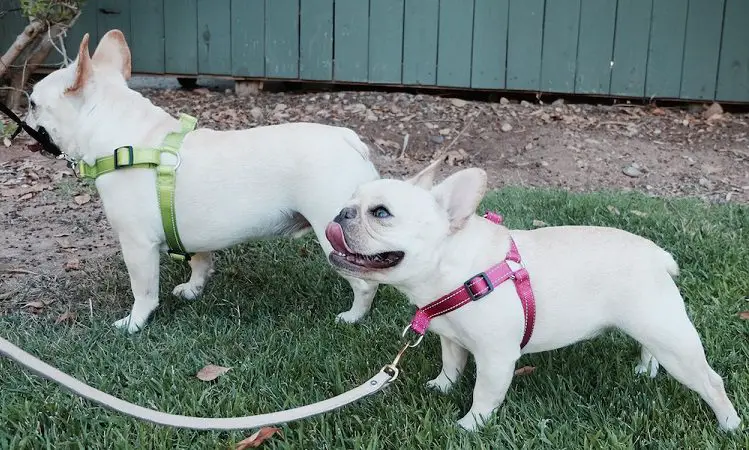 A front clip harness is one that has a clip where the leash attaches to the center of the dog's chest.
Trainers choose these harnesses, so they pull less while on the leash.
The chest harness gives you more control over where the direction goes, and it allows you to redirect the dog so that it faces you.
Pros
You have more control over how much the dog pulls
You can't direct the dog and turn them to face you
Cons
Little control if the dog has behavioral problems
Leash tangles in its front legs with too much slack
Tightening Harness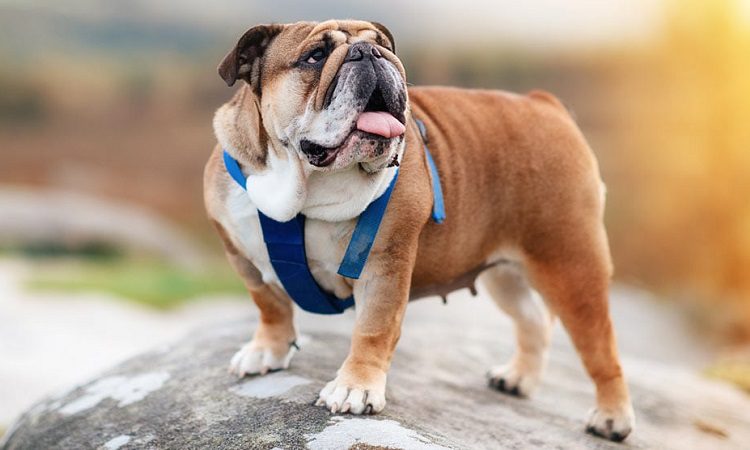 There are variations of a body harness that will add some pressure and tighten if your dog pulls while he's in it.
The tightening on the harness should be enough to make the dog uncomfortable, and they will stop pulling. The tightening harness can be great to prevent pulling.
However, there are some tightening harnesses that can hurt the dog, causing them sharp pain when they pull.
If you do choose one of these harnesses, choose one that is gentle and doesn't apply pressure that could be painful.
Pros
Provides painless pressure when the dog pulls, making them stop pulling
Easy to put on
Cons
Could cause pain if you choose the wrong harness Isn't intended for constant use
Best Material For A Bulldog Harness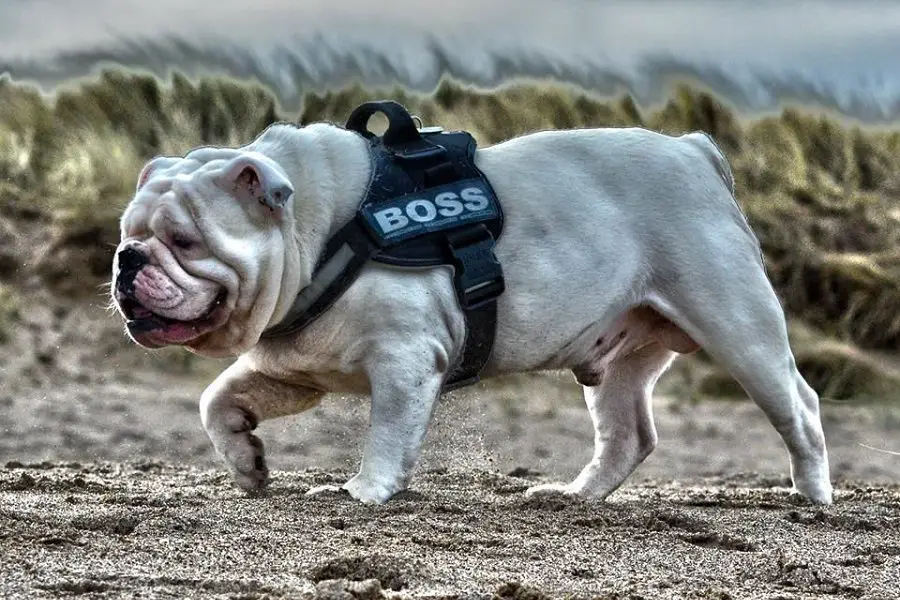 Now that you've chosen what kind of harness you are going to need, you should also consider the material you want the harness to be made of.
You have leather bulldog harnesses, nylon, and even chain (although chain harnesses aren't highly recommended for Bulldogs—or any dog for that matter!).
With a leather harness, you are getting a strong and reliable harness that you know will last a while.
The downside of a leather harness is that it can be heavy and it could rub your dog and potentially irritate the skin. If you choose a leather harness, you shouldn't leave it on the dog for too long.
Nylon harnesses, on the other hand, are lightweight and more comfortable for your dog to wear. Depending on the construction of the harness, it could prove to last just as long as the leather option.
You do want to be wary of the quality of the material because if it is poorly made, the harness could break after too much wear and tear.
Features To Look For In A Bulldog Harness
So, not only will you have to consider the type of harness you need and the preferred material the harness should be made of, but you should also consider the overall durability.
Your collar should be made of strong material, yes, but it should also have a nice design and be available in several sizes.
Ideally, choose the right bulldog harness size that can also be adjusted to get the perfect fit.
Along with durability, you want to make sure the harness is machine washable too. You're going to want to wash your dog's harness pretty regularly, at least once a week.
Final Word
When you're faced with the decision, of harness or collar, you might not have put much thought into it if you had a breed other than a bulldog.
However, because Bulldogs have particular needs, especially when it comes to their breathing, you have to be a little more careful.
Collars on a Bulldog could be too tight and make it more difficult for them to breathe. With a harness, you're ensuring that your dog will be able to breathe, but will also be more comfortable when you're walking him.
Harnesses can be found at any pet store, and most stores will even allow you to bring your dog inside to try on said harnesses so you can get the perfect fit.
When you are looking at the harnesses, keep in mind which style you want and what will suit your needs, but you should also consider the material the harness is made out of and whether the harness is machine washable.
With these things in mind, we're sure you'll be able to choose a bulldog harness that will suit your needs, perfectly.
Resources: